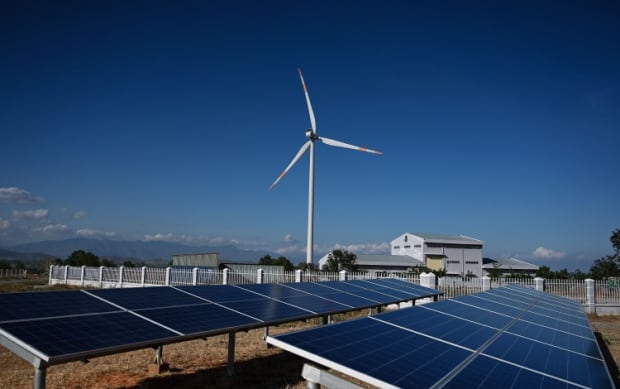 As banks and other publicly traded companies face pressure to demonstrate the measures they are taking to address climate change, green bonds are gaining popularity among issuers and investors in the Asia-Pacific region, in part because of their defensive tilt, according to investment managers.
Green bonds – fixed income products designed to fund projects that are positive for the environment – held up better than investment-grade corporate credit during the recent sell-off in the financial markets as the coronavirus pandemic weighed on the global economic outlook, according to Thomas Wacker, head of credit in UBS Global Wealth Management's chief investment office.
"The green bond market, through its industry sector composition, is a lot more defensive than broad investment-grade corporate credit," Wacker said. "[It] has held up better during the sell-off. The main reason is that conservative tilt, slightly better credit quality and more defensive names."
Among green bonds, there's very low weight in cyclical industries, such as oil and gas or consumer-driven sectors, helping them hold up "very nicely", Wacker said.
Oil and gas producers have been hit hard by oil price declines in the past month amid a price war between Russia and Saudi Arabia, and the pandemic has eaten into consumer spending as governments have ordered people to avoid all but essential travel.
At the same time, sustainable investors tend to be more long-term oriented, helping green bonds fare better than traditional corporate bonds in an environment where bid-ask spreads widened massively and there were huge discounts as people tried to sell, Wacker said. Also, green bonds have shown lower volatility over time, he added.
According to the Climate Bonds Initiative, US$47.9 billion in green bonds have been issued so far this year and as much as US$350 billion in new green fundraising is projected for all of 2020. That would represent a 36 per cent increase over 2019, when a record US$257.5 billion was issued, according to the not-for-profit.
In Southeast Asia alone, issuance of green bonds nearly doubled to US$8.1 billion last year, compared with US$4.1 billion in 2018, according to an April 14 report by the Climate Bonds Initiative and HSBC. Southeast Asia represented about 3 per cent of the global total last year.
"With market regulations now in place to support the emergence of a buoyant green finance sector, the path towards investment in low-carbon economic growth, greener infrastructure and more climate-resilient economies in Southeast Asia is opening," the report said.
Banks have also become a bigger issuer of green bonds and other debt instruments to support sustainability efforts, led by lenders in Asia-Pacific and Europe, according to Moody's Investors Service.
The amount of green bonds issued by banks, including development banks such as the World Bank, rose 27 per cent last year to a record US$83.6 billion, according to Moody's. Asia-Pacific lenders accounted for 37 per cent of all green bonds issued by banks since 2015, outpacing European lenders, according to the credit rating agency.
"We expect investor demand to drive further increases in banks' green and sustainability bond issuance, although there are near-term risks to the downside due to the market fallout from the coronavirus outbreak," Moody's analysts Malika Takhtayeva and Matthew Kuchtyak wrote in a March 13 report.
The novel coronavirus, which causes the disease known as Covid-19, has infected more than 3.5 million people worldwide and dramatically cut into global economic activity this year as it has forced lockdowns around the world.
But the bonds are becoming increasingly important for companies – and fund managers – as they face pressure from activists and shareholders to consider the environmental effects of their operations.
American drug maker Pfizer raised US$1.25 billion at the end of March with a new sustainability bond to help manage the company's environmental footprint and "support increased patient access to Pfizer's medicines and vaccines, especially among underserved populations, and strengthen health care systems".
The pandemic, and its health and economic effects globally, are likely to increase the focus on responsible and sustainable business conduct in the future, according to Tobias Pros, the chief executive of Allianz Global Investors.
"While its effects are devastating, we should draw hope and inspiration from the unprecedented global solidarity shown during this crisis," Pros said as part of the asset manager's sustainability report on April 27. "A similar kind of international focus and co-ordination will be required to prevent global warming and facilitate the transition to a carbon-neutral economy."
Allianz Global Investors' investments in sustainable assets increased nearly sevenfold in the past three years to €165 billion at the end of 2019.
Sign up now and get a 10% discount (original price US$400) off the China AI Report 2020 by SCMP Research. Learn about the AI ambitions of Alibaba, Baidu & JD.com through our in-depth case studies, and explore new applications of AI across industries. The report also includes exclusive access to webinars to interact with C-level executives from leading China AI companies (via live Q&A sessions). Offer valid until 31 May 2020.
More from South China Morning Post:
Read the original article on South China Morning Post. For the latest news from the South China Morning Post download our mobile app. Copyright 2020.
Read full article Green Bonds Gain Popularity, A Defensive Bet As Coronavirus Pandemic Weighs On Markets, Investment Managers Say and don't miss Bonds & Rates, Coronavirus, Stocks and other topics, financial news headlines, business stories, opinions and trade analysis on Market Insider.