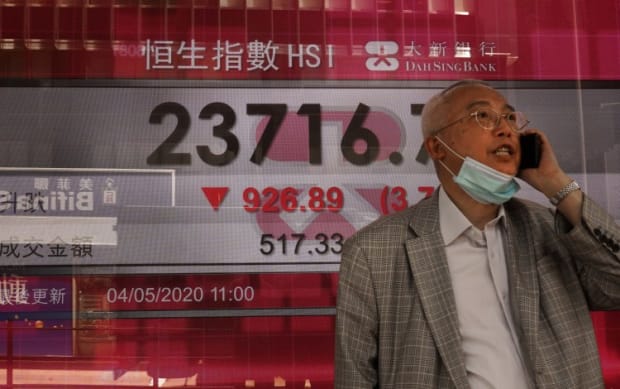 Hong Kong stocks suffered their worst fall in six weeks on Monday as US-China tensions flared up over the coronavirus and the US-China trade deal.
The city's Hang Seng Index fell 4.2 per cent, or 1,029.79 points.
Chinese oil players suffered steep drops due to ongoing turmoil in the world's oil markets amid weak demand fuelled by the pandemic. PetroChina and Sinopec dropped more than 8 per cent. Chinese airlines also tumbled, with investment legend Warren Buffett adding to their woes by dumping his US airline stocks and predicting over the weekend continued turbulence for the industry. Air China fell nearly 6 per cent.
"US-China tensions will be a long-term negative factor for the Hong Kong market, at least before the November presidential election. But frankly speaking, the impact on the Hang Seng Index is larger than my expectation," Kenny Wen, wealth management strategist at Everbright Sun Hung Kai, said of Monday's big fall.
'After-the-coronavirus' stocks at bargain basement prices are screaming 'buy' at gutsy investors, some analysts say
The last 1,000-point fall was on March 23, when the index tumbled 4.9 per cent, or 1,108.94 points.
The Hang Seng entered a bear market on March 13 and closed at its recent lowest point of 21,696.13 on March 23.
It has been trying to dig its way back out of that hole, with sentiment improving in April as the world began experiments with easing lockdowns, the curves of infections and deaths in global hotspots started to flatten and a treatment showed some promise in clinical trials.
Hong Kong's Exchange Fund reports record HK$86 billion loss in first quarter as coronavirus batters stock market
But tensions between China and the US have resurfaced, with President Donald Trump over the weekend threatening to resume tariffs if China does not buy the full goods and services it promised and also conjecturing that Beijing allowed the virus to spread so that it would not be alone in suffering economic consequences.
Meanwhile, in an explosive claim, the US Department of Homeland Security found that China likely withheld information about the outbreak so that it could hoard medical supplies to protect its own citizens, according to Associated Press.
Trump has turned his sights increasingly on China as his re-election prospects in November have dimmed, with new polls showing the Republican losing ground to Democrat Joe Biden in key states that are likely to determine the outcome.
"The market is already factoring in a less globalised world during the initial phase of the post-pandemic recovery as economies internalise. But rekindling a dormant US-China trade war will likely make any economic improvement exponentially more difficult," said Stephen Innes, chief global markets strategist at AxiCorp. "And ripping up the trade agreement will trigger a global equity market rout."
Mainland Chinese markets were closed Monday and will be on Tuesday as well, while Japan's markets are closed until Thursday due to holidays.
Elsewhere in the region, South Korea's Kospi tumbled 2.7 per cent, while the tech-heavy Kosdaq slipped 0.5 per cent.
After weeks of speculation over the health of North Korean leader Kim Jong Un, the country's official media said he attended the opening of a fertiliser factory. This was his first public appearance in almost three weeks.
Separately, North and South Korean troops exchanged some gunfire on Sunday along the heavily fortified demilitarised zone (DMZ) that divides the peninsula roughly in half, according to Yonhap news agency.
Australia and New Zealand markets rose, as New Zealand's Prime Minister Jacinda Ardern will join Australia's emergency coronavirus cabinet on Tuesday to discuss the possible creation of a "travel bubble" between the two countries, Reuters reported.
In Australia, which is battling its worst recession in decades, the S&P/ASX200, gained 1.4 per cent.
New Zealand's S&P/NZX50 rose 0.3 per cent.
In Hong Kong, the market over recent weeks has essentially split between stocks expected to do well after the coronavirus, such as Chinese e-medicine giants Ali Health and Ping An Good Doctor, and those expected to continue to struggle. The latter ones are tied to Hong Kong's economy, especially those linked to retail and travel.
But on Monday, even Ali Health and Good Doctor fell.
Sign up now and get a 10% discount (original price US$400) off the China AI Report 2020 by SCMP Research. Learn about the AI ambitions of Alibaba, Baidu & JD.com through our in-depth case studies, and explore new applications of AI across industries. The report also includes exclusive access to webinars to interact with C-level executives from leading China AI companies (via live Q&A sessions). Offer valid until 31 May 2020.
More from South China Morning Post:
Read the original article on South China Morning Post. For the latest news from the South China Morning Post download our mobile app. Copyright 2020.
Read full article Hong Kong's Stock Benchmark Falls 1,000 Points – The Most In Six Weeks – As Sentiment Sours On US-China Tensions and don't miss China, Coronavirus, Hang Seng, Stocks, U.S. and other topics, financial news headlines, business stories, opinions and trade analysis on Market Insider.
China · Coronavirus · Hang Seng · Stocks · U.S.