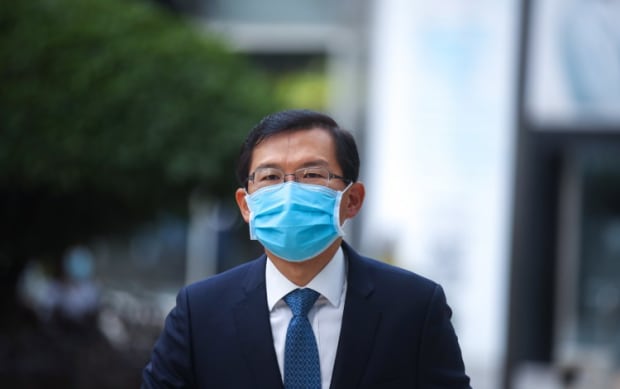 The alleged mastermind of the fraud involving Hong Kong's largest independent financial advisory firm, Convoy Global Holdings, was charged with intent to deceive members of the company about its affairs by the city's anti-corruption investigator as the trial got under way on Monday.
Roy Cho Kwai-chee, the former executive director at Convoy, was charged with deceiving staff by concurring to publish false statements in the company's 2016 annual report published on March 29, 2017. This came in addition to the charge of conspiracy to defraud the company filed by the Independent Commission Against Corruption last May.
The same charges were levied against his associates, Christie Chan Lai-yee, 46, a former chief financial officer at Convoy, and Byron Tan Ye-kai, 51, a former executive director at the company.
Cho, 55, acted as a de facto, or shadow, director of Convoy, exerting significant influence over its operations while he owned 50 per cent of the company, the ICAC said.
If convicted, the District Court can impose jail sentences of up to seven years on each of the accused.
The trio pleaded not guilty to both charges at the court hearing and were released on bail. The trial will continue at the Wanchai District Court on Tuesday at 10am.
The court hearing has been affected by the coronavirus outbreak. People were told to sit one seat apart, and the judge required that each law firm had only two lawyers present.
Cho conspired to defraud Convoy, its affiliates, and potential investors, leading the company to invest more than HK$89 million (US$11.3 million) in the acquisition of True Surplus International, an investment firm, in September 2016, according to a court document presented by the prosecuting lawyer before Judge Ernest Lin Kam-hung.
With the help of his associates, Cho was able to hide the fact that he was a substantial shareholder in Convoy at the time. He was also able to hide the fact that he had a 55 per cent stake in True Surplus. The stock exchange was also not aware of the fact Cho received HK$57 million from the deal, according to the ICAC.
The charges are the culmination of a joint investigation between the Securities and Futures Commission and ICAC that began in December 2017.
Convoy has more than 100,000 customers.
Trading in Convoy's shares has been halted, and its management has changed since the investigation by the ICAC and SFC began. The company had filed a number of civil writs against Cho and others, including a suit seeking HK$715 million in compensation.
Help us understand what you are interested in so that we can improve SCMP and provide a better experience for you. We would like to invite you to take this five-minute survey on how you engage with SCMP and the news.
Sign up now and get a 10% discount (original price US$400) off the China AI Report 2020 by SCMP Research. Learn about the AI ambitions of Alibaba, Baidu & JD.com through our in-depth case studies, and explore new applications of AI across industries. The report also includes exclusive access to webinars to interact with C-level executives from leading China AI companies (via live Q&A sessions). Offer valid until 31 May 2020.
More from South China Morning Post:
Read the original article on South China Morning Post. For the latest news from the South China Morning Post download our mobile app. Copyright 2020.
Read full article Roy Cho, Alleged Mastermind Of Hong Kong's Biggest Fraud Case, Denies Fresh Charge Of Deceiving Staff At Convoy As Trial Gets Under Way and don't miss Stocks and other topics, financial news headlines, business stories, opinions and trade analysis on Market Insider.