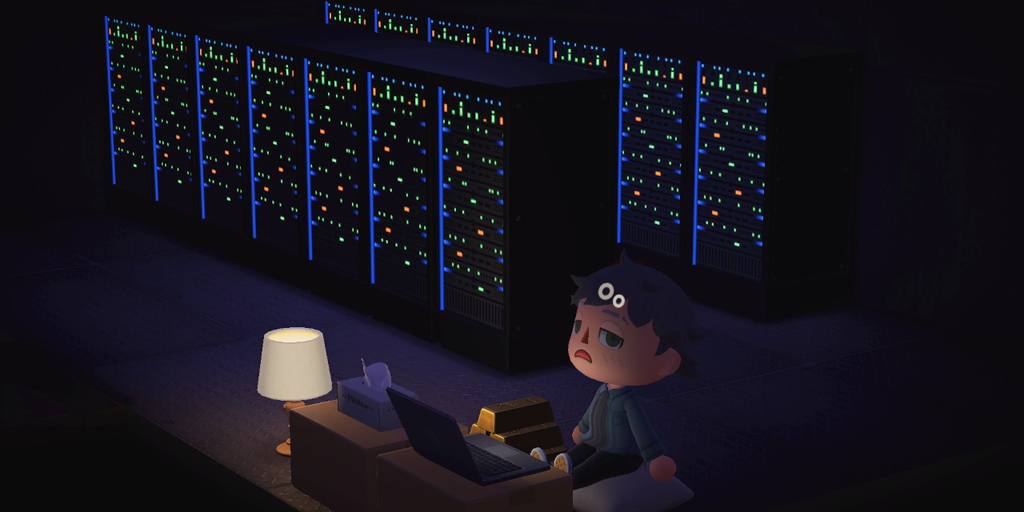 While many people have spent their time in lockdown playing the popular game Animal Crossing New Horizons on the Nintendo Switch, at least one player has put in the work to ensure his in-game character doesn't miss Bitcoin's recent bullish activity.
The game typically revolves around completing various simple tasks, like chopping wood and farming, in order to earn in-game currency that is used to buy items. Although the game is designed to be a relaxing, whimsical experience, it seems this isn't enough for at least one player, who instead opted to turn his in-game kitchen into a faux Bitcoin mining operation.
The image was crossposted yesterday to the CryptoCurrency forum on Reddit and was created by Reddit user "stholli" with the caption "Other people have ironwood kitches (sic). I have a bitcoin mine."
The creation features an Animal Crossing villager sitting in front of a computer screen surrounded by server racks with a worried expression on his face—we can only assume he stayed up all night chart watching, something many traders are guilty of doing.
According to VillagerDB, an online catalog of Animal Crossing New Horizons items, each Server item sells for 100,000 bells (the in-game currency). At a going market rate of around $2.90 per million bells, this means stholli's setup costs at least $4.06 worth of bells—and with no real mining operation, it will never break even. That's not including the cost of the gold bars or computer, both of which somehow cost less than the server racks.
Bitcoin appears in many popular games
This isn't the first time somebody has built a Bitcoin miner in a popular video game.

Back in 2014, a user known as "DrDaBombz" on MinecraftForum created a semi-functional Bitcoin miner out of in-game elements. Likewise, YouTuber "TheRedEngineer" created a cut down version of Bitcoin, including its mining protocol and wallet features within Minecraft using command blocks—a type of in-game component that can be used to execute console commands.
Although players sometimes create Bitcoin miners in games willingly, plenty have also fallen victim to games loaded with stealth Bitcoin miners. Upon installation, such games begin mining Bitcoin using the CPU and GPU resources of the player, while sending the proceeds back to the game developer. Most of these are downloaded through third-party app stores with less stringent checks in place, but several have also found their way onto the Steam store, managing to infect thousands of users before being removed.
Let's hope that Bitcoin mine isn't similarly nefarious.
Have a news tip or inside information on a crypto, blockchain, or Web3 project? Email us at:
[email protected]
.
Read full article Someone built a Bitcoin mining farm in Animal Crossing and don't miss Bitcoin (BTC), Cryptocurrency, Mining and other topics, financial news headlines, business stories, opinions and trade analysis on Market Insider.